Eagle Scout project takes the sting out of boo-boos for Hendrick patients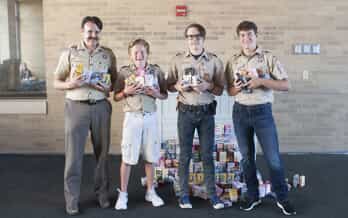 When Hayden Lohman was preparing for his Eagle Scout project, he asked staff at Hendrick Children's Hospital if they needed anything. Child Life Specialist Drew McMillon knew exactly what to tell him – character Band-Aids. After all, having a Band-Aid with a favorite character on it almost always eases the pain of a boo-boo.
Lohman, who has been involved in scouting since the age of 12, asked his family and fellow scouts from Troop 251 to help gather as many Band-Aids as possible. And that's exactly what they did. Since April, Lohman has collected hundreds of boxes of Band-Aids from drives and donations.
Two weeks ago, Lohman presented all 14,340 Band-Aids to Hendrick Children's Hospital. While a donation that size would be enough for most, Lohman wasn't finished. He saw another need he could meet, and secured a donation for a small shed for storing the toys on the outdoor terrace. Lohman assembled the shed and presented it to the Children's Hospital, along with the Band-Aids.