Texas State Guard makes an early Christmas delivery to Hendrick Children's Hospital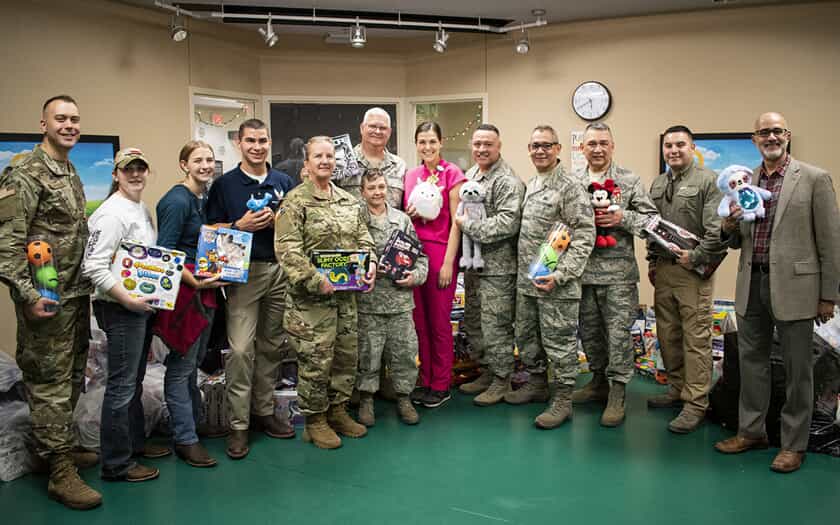 Christmas came early for patients in Hendrick Children's Hospital. On Friday, representatives from the Texas State Guard (TXSG) delivered approximately 2,500 new toys to the hospital. The event is part of the annual Young Heroes of the Guard Christmas Toy Round-Up for Texas Children's Hospitals. Hendrick Children's Hospital began receiving donations from the program in 2013.
"We can't express our gratitude enough for the toy donation that the Texas State Guard provides Hendrick Children's Hospital each December," said Drew Davis, child life specialist at Hendrick Health. "These toys truly are a blessing to all of the patients and their families. The volume of toys donated not only provides holiday cheer for our patients during this season, but sustains us to provide the best care for our patients year round."
The goal of the Texas State Guard "Young Heroes of the Guard" toy drive is simple - to collect and distribute new toys to every pediatric patient at every dedicated children's hospital in Texas during the Christmas season. Additionally, enough toys are collected to leave behind an inventory of games, dolls, blocks and more for the hospitals to give to patients throughout the following year. TXSG project is Texas-wide and toys go to hospitalized children, regardless of income status.
Hendrick pediatric patients were allowed to choose three gifts for themselves from the mountain of toys in the Playroom.
The Texas State Guard is one of the three branches of the Texas Military Forces, under the command of the Governor of Texas Several of the participating Guardsman live in and around Abilene.